Welcome to Steve Hale Goalkeeping School
Steve Hale Goalkeeping School is in its 9th season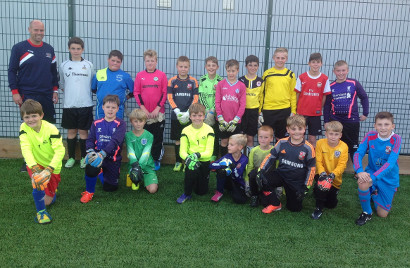 Steve Hale Goalkeeping School is in its 9th season and continues to develop young goalkeepers technically, tactically, physically, socially and psychologically. Based at the fantastic Kingsdown School facility on the state of the art 3G pitch sessions run every Wednesday through school terms from September to the end of May.
Many goalkeepers play for teams in the North Wilts League, Junior Premier League and some have gone into academy football at Swindon Town where Steve Hale is the full time Head of Goalkeeping.
12 months ago young Louis Scarpino-Cockings joined Steve Hale Goalkeeping School.
At the same time as impressing Steve in the sessions on a Wednesday evening, his name was also mentioned to Steve by one of the Swindon Town Academy Scouts on a few occasions who had said he had done well in games with his club side. Therefore in Steve's role as Academy Goalkeeping Coach at Swindon Town, Louis was invited in for a trial period. This involved Louis taking part with the other academy goalkeepers and also in the main squad sessions. He then also took part in a series of games including playing against the likes of Reading and Arsenal.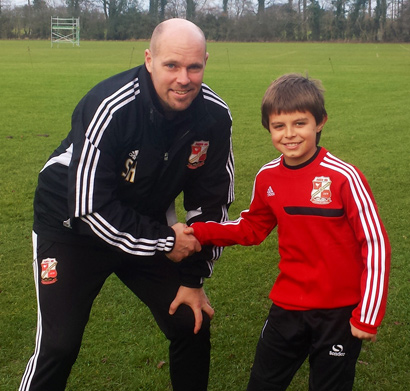 After discussions between the squad coaches and Steve it was agreed that Louis should be offered an academy contract.
Steve said "Louis has always shown a good attitude to his training from the first day he joined my goalkeeping school, he listens and always tries to do what's asked of him and has shown that he is a quick learner. Our age group coaches also felt there was the necessary potential to develop him further so we are delighted to have offered him the chance to learn and develop within the academy environment."
Louis is the latest young recruit for Swindon Town Academy, of goalkeepers that have either been regulars in Steve Hale Goalkeeping School or have attended one or two day courses over the past seven years following in the footsteps of Aaron Moody, James Farmer, Matt Brown, Conor Thompson, Jared Thompson, Calli Smith and Oliver Whiteley.
In July 2007 Steve Hale Goalkeeping School held its first two day course at the Crosslink Centre in Stratton, Swindon. Pictured third from left in the group picture ten year old Aaron Moody can be spotted.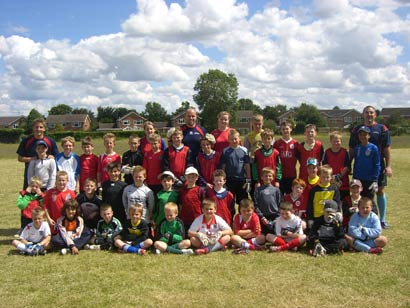 Nearly six years later, on Tuesday 26th February 2013, having worked with Aaron since then within the Swindon Town Academy, Steve Hale Goalkeeping School is proud to be able to announce that Aaron has now been offered full time scholarship terms at Swindon Town FC.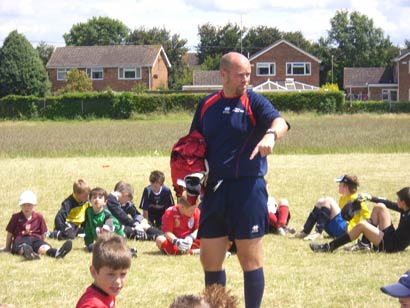 "Aaron has worked so hard over the years at his game and shown a fantastic attitude, desire and willingness to improve. His family also deserve a lot of credit for the support they have given him and in allowing me to get on with developing him as a goalkeeper and a person. I am thrilled for Aaron and his family that their hard work has paid off to get to this stage. Now he has to work even harder over the next two years to try and achieve his next dream in becoming a professional footballer"
Swindon Town Goalkeeper Leigh Bedwell recently appeared as a guest coach for the evening and not only took time to coach all the young goalkeepers but also answered some questions that were put to him.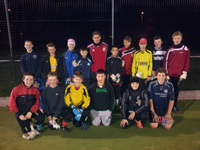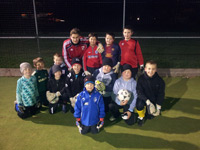 Steve Hale said "A few years ago I had some of the goalkeepers in from Swindon to work with our young goalkeepers and talk about their own experiences and it worked well. Leigh was also due to come in earlier on this season but couldn't make it at the time due to commitments with Swindon.
On this night recently both my other coaches were unable to make it so I rang Leigh at the last minute and asked if he would come in to help me out. Such is the good nature of Leigh he was happy to help out.
Leigh is someone who started out in grass roots at the age of 7, and was spotted at 9 and came through the whole youth system at Swindon to make it as a professional. I had the pleasure of coaching him from when I joined the club when Leigh was 14 through to him gaining his first professional contract.
Leigh can relate to what the young goalkeepers are going through in their football development so it was great for them to meet Leigh. He himself has worked very hard over the years to get where he is now and is an ideal role model for all young goalkeepers. Leigh was kind enough not only to spend time coaching them but to answer all their questions at the end. I'm sure Leigh will make an appearance again in the future and I sincerely thank him for taking the time to come and visit us."
Steve Hale Goalkeeping School is extremely proud to announce that one of its former students has signed for Premiership giants and current European champions Chelsea FC!
13 year old Jared Thompson joined Steve Hale Goalkeeping School at 8 years of age and within a year moved on to the Swindon Town Centre of Excellence where Steve is also the goalkeeping coach. Jared has been coached at Swindon now for the past 4 years by Steve who has overseen his development and has included tours of Scotland, Holland, the Cayman Islands and South Korea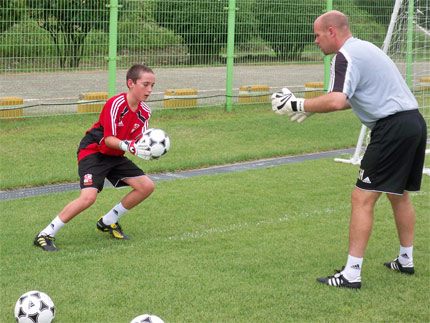 Jared working with Steve - South Korea in 2010
Steve said:-
"Right from when he joined my goalkeeping school you could see Jared had raw potential. He was tiny at the time but all he wanted to do was go in goal and save shots, particularly from the bigger and older goalkeepers in the group!
Since coming into Swindon, each season Jared has continued to grow and develop his all-round game. His shot-stopping has always been of a good standard but in the last 12-18 months his distribution in particular, which is a massive part of the game now for a goalkeeper has come on leaps and bounds. He has a sweet left foot and is comfortable receiving and playing out from the back.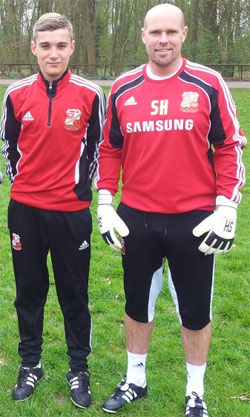 I had already ear-marked him as one who could come through and gain a two year scholarship in the youth team at Swindon but this season Southampton, Manchester Utd and Chelsea showed interest in him. He recently went to Sardinia in Italy to play in a series of games for Chelsea (including a game with Juventus) so they could look at him in their environment. He impressed them and they have now agreed a deal for an undisclosed amount to buy him from Swindon Town. Although obviously disappointed to lose him from Swindon Town, this is a fantastic opportunity for Jared himself and I'm sure he will continue to develop and forge out a career for himself in the game.
It's brilliant to think Jared started out in one of my first years of setting up my goalkeeping school and makes me very proud both of that and how he has worked over the last 4-5 seasons to get where he is today. I wish him all the best and will be keeping an eye out for him over the coming years."
CALL Steve on 07711 275526
EMAIL This e-mail address is being protected from spambots. You need JavaScript enabled to view it
OR
use the CONTACT FORM